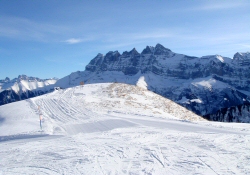 Links to this site from other sites are always welcome, but please do tell us.
Please contact us if you know of a site that might appropriately be added to this page, preferably on a reciprocal basis.
Chalet Chrysalis, Morgins : Links
Here are links to some other websites you may find useful.
The Holiday Cottages Collection
We are pleased to be a member of
The Holiday Cottages Collection
, a selection of luxury self catering holiday cottages located throughout England, Scotland and abroad. Here are links to some other members.
Tayside

No.1 The Library, Errol, Perthshire, Tayside
No.1 The Library is a luxurious one bedroom apartment situated in the small Perthshire village of Errol. The apartment, formerly part of the village library, has been lovingly renovated. Boasting all the luxurious touches you would expect from a top hotel, but with all the convenience of a self-catering apartment, you'll wish you booked a longer stay! Just a 2 minute walk from the stunning Errol Park, and a short drive from Guardswell Farm, The Byre at Inchyra and Fingask Castle, it is perfectly located for anyone attending a wedding or event in the local area. It is also an ideal base for exploring all that central Scotland has to offer. Perth and Dundee (home of the new V & A) are both less than 30 minutes away, and day trips to Edinburgh, Stirling, Dunkeld, the Cairngorms and St Andrews are all within a 1 hour drive.